The Ilkka Group is a media group that consists of the parent company Ilkka Oyj, the publishing company I-Mediat Oy, the printing company I-print Oy as well as the marketing and communications technology provider Liana Technologies Oy, together with its subsidiaries. Liana Technologies develops and sells cloud-based marketing and PR services for corporate use.
The influencer marketing agency somessa.com Oy Ab, the marketing agency Myynninmaailma Oy (together with its subsidiaries digital marketing agency Digimoguli Oy and content strategy agency Differo Oy) and MySome Oy are the subsidiaries of I-Mediat Oy. A majority stake in the social media agency MySome Oy was acquired on 25 August 2021. On 23 May 2022 Myynninmaailma Oy acquired the whole capital stock of Differo Oy. The Ilkka Group also includes property company, Kiinteistö Oy Seinäjoen Koulukatu 10.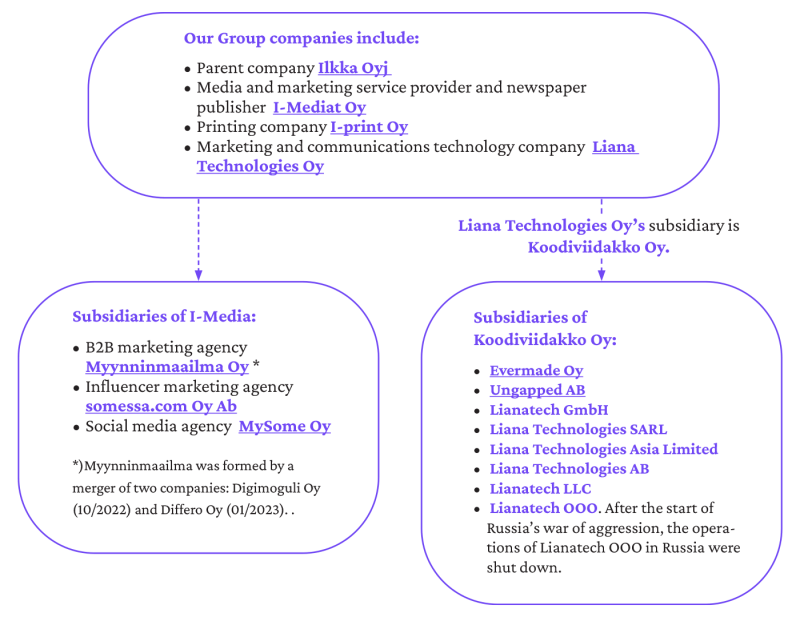 Our main products are the regional newspaper Ilkka-Pohjalainen, five local newspapers (Viiskunta, Komiat, Järviseutu, Suupohjan Sanomat and Jurvan Sanomat), two free sheets (Vaasa and Epari), including the online and mobile services of these papers, and I-Mediat Oy's and its subsidiaries' marketing and communications services, DOOH, I-print Oy's printing and distribution services and Liana Technologies Oy's software for professional online marketing and communications.
Ilkka Group's locations on the map
In 2022, the Group employed a total of around 570 content production, marketing, information and technology experts.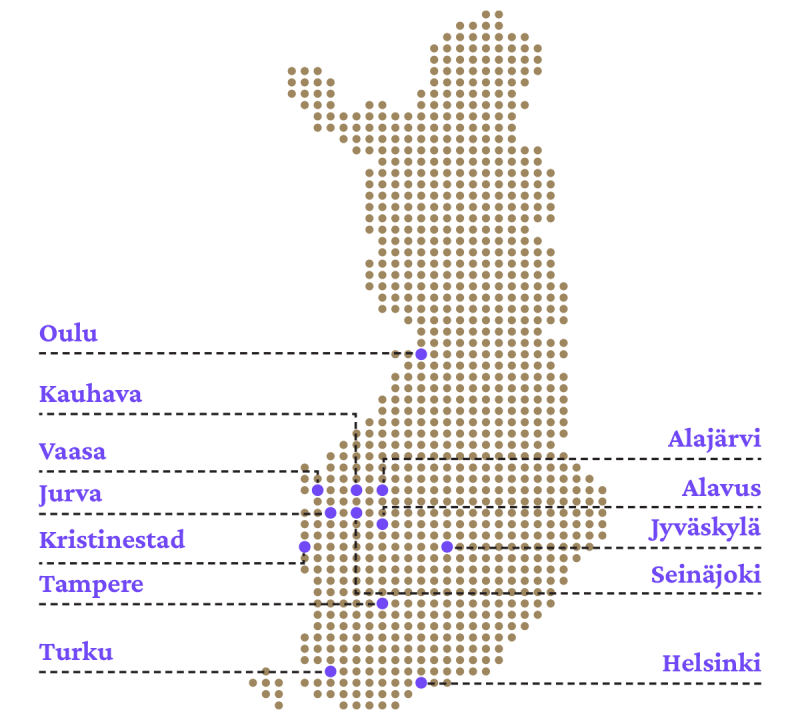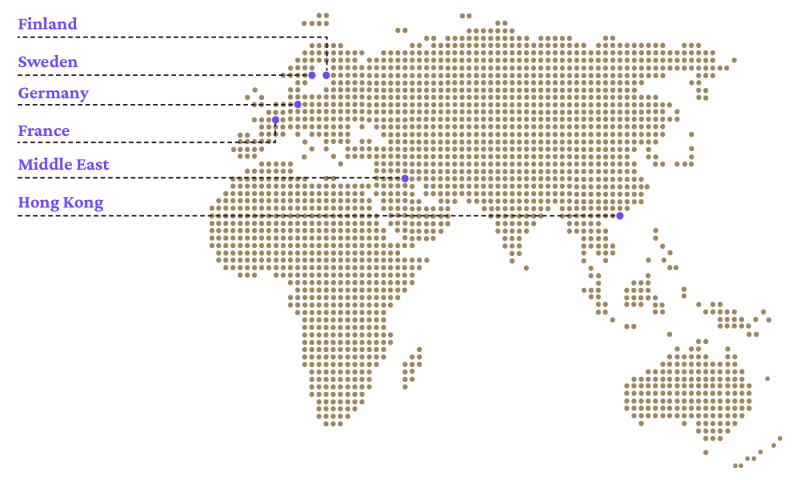 The Group also includes associated companies Arena Partners Oy (41.17 %), Yrittävä Suupohja Oy (38.46 %) and as of 29 October 2021, Hilla Group Oyj (29,52 %). Alma Media Oyj (27.30 %) was consolidated as associated company until Ilkka Oyj sold 16.4 % of Alma Media Oyj's shares on 16 November 2018. Following the sale Ilkka Oyj owns 10.9 % of Alma Media's shares. In accordance with IFRS rules, a business area that has been divested should be reported under discontinued operations. The divested Alma Media holding was therefore reported as discontinued operations in the financial period 2018 and its comparison periods. The remaining holding is reported in non-current financial assets.
Arena Partners Oy is a digital business development and production company jointly owned by five provincial newspaper companies. Yrittävä Suupohja Oy publishes Suupohjan Seutu, a free sheet distributed in the Suupohja region. Hilla Group Oyj is a media group whose business areas include publishing, printing and distribution services, advertising and marketing services as well as software and digital services.
The Series I shares of Ilkka Oyj were listed on the Helsinki Stock Exchange in 1981 and have remained listed ever since. The Series II shares have been listed since their issue in 1988, and on 10 June 2002 they were transferred from the I List of the Helsinki Stock Exchange to the Main List. At present, the Series II shares of Ilkka Oyj are listed on the Nasdaq Helsinki List, in the Consumer Services sector, the company's market value being classified as Small Cap. The Series I shares are listed on the Pre List.